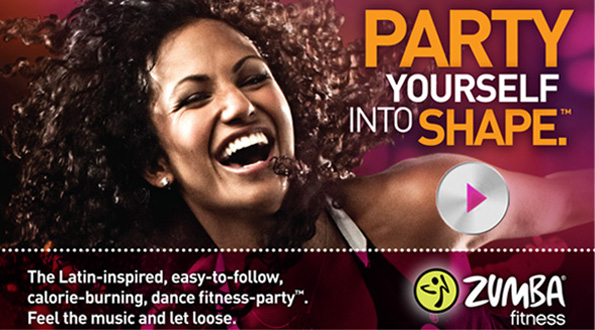 Ditch the workout-join the party!
Latin and international music are fused to create an explosive, booty shakin' party of a workout that will target all those problem areas, burn 400 to 1,000 calories a class and leave you on a high!
Hot tips for making the most of your Zumba® class:
Leave your inhibitions at the door! The more you let go the more fun you'll have – a free spirit will burn more calories!
Make sure you hold in your abs when you are dancing to really tone your tum and support your lower back.
Find the right Zumba® class for you. Every class and instructor is different, so make sure that you find a class and instructor that you love – because you really should LOVEyour Zumba® class!!
Wear a dance trainer with a spin point to protect your knees and hips.
Don't dance like your instructor or the other participants around you – feel the music and dance like you! If you can't get the steps it really doesn't matter – just keep moving and keep smiling.
Focus yourself on a Zumba® fitness goal, whether it is a weight loss target
or stamina challenge.
The Lindsay Jay Fitness team teaches classes in a number of locations. Click one of the links below to find a class near you!

This website www.lindsayjay.co.uk is owned and operated by Lindsay Jay, a licensed member of the Zumba® Instructor Network. Please visit my profile at: http://lindsayjay.zumba.com/