The Universal Language of Zumba!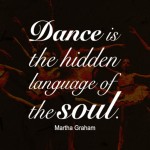 What are the chances of an African, an Arab and an American in one room, without a common language, communicating effectively?
For someone who was so useless at language at school, it's insane to have a YouTube following that stretches from the Solomon Islands (twelve views in the last thirty days!) to Saudi Arabia (seventy four thousand views in the last thirty days). It's all down to the power of expression through simple dance.
Dance brings alive the most basic and primitive of human passions, that have otherwise been forgotten in this technological era. Dance is thought to have originated around 9000 years ago and is first seen through archaeology in the rock shelter paintings in India and Egyptian tomb paintings from 3300 BC, meaning Zumba has roots just as deep as the oldest holistic paths, such as yoga. Dance has its roots in healing (still seen in Brazil and Sri Lanka) and in expression. Different cultures told myths and stories through dance to express emotions, from love to anger. From its very beginnings dance has always been about communication…
The funny thing is… in Zumba, we don't talk, and yet we communicate from the first step to the last. It's certainly a very different type of connection from classes where verbal cues are everything but it brings us back to our roots. From the moment that societies began, dance was there. It's no coincidence that when we relax we dance… Who's caught their boyfriend dancing in the shower on a particularly bright day? Or watched their Dad dancing with an expression of utter joy on his face? Dance allows me to connect with hundreds, even thousands of people in one class. It's exhausting precisely because I connect with and have a relationship with everyone in the room.
Because there's no language and no verbal cue or instruction – barriers disappear. Come to class and it doesn't matter if you are black, white, male, female, gay, straight, old or young. It's a place where Grandmothers connect with Granddaughters, boyfriends with girlfriends and best friends with best friends. One of my closest friends came from my first community class, in Richmond, in 2010. It was her first class and from the beginning of the warm-up she was hooked. She ran and still runs an ice-cream shop by the Green – of course the relationship blossomed due to her love of Zumba and my love of Italian Gelato!
Politically the merits of multiculturalism are still out for debate but in Zumba, it's everything. Our classes are melting pots filled with the most diverse of people
from all walks of life, with common goals and passions. Although men are more rarely seen, thirty two percent of my views on YouTube are male – although I question how many are actually dancing along! From it's beginnings with Beto Perez in Columbia, Zumba was about taking culture from one country to another and, as it has moved around the globe it has picked up the influences which we all love, forming cultural bridges all around the world. Just look at the new ZIN tracks danced by Ricardo Marimitte, a Mauritian and a African Workshop presenter as well as Steve Boedt from Belgium.
As Zumba moves across the globe it spreads like wildfire across whole continents. I had dinner with Jessica Mellet recently at a fitness convention, she's a huge star in France currently and was a big hit with the audience. She was talking to me about France being a couple of years behind us (UK) and experiencing the Zumba Boom at the moment. In fact next month, I'm hosting a Zumba Battle at The Two Brewers on Clapham High Street, entertaining fifty French Zumba enthusiasts who are travelling over from Gay Paris, and it doesn't even matter that my French c'est terrible! It's the fourth event organised by Charlotte Cheval and is one of my favourite events of the year. Perhaps because the communication and dance is more intense given the lack of the spoken word. I've just committed to a fitness convention in Bucharest next year and, given my Romanian (fitness-Scandinavia), can't wait!
I started this blog by saying that technology was the cause of our lack of expression with one another, however, the internet, YouTube, Facebook, Twitter and LinkedIn, have given Zumba a pulse like no other that has ever existed for a fitness programme. I love my followers all around the world and have technology to thank for them. They benefit from free classes, influences and dances that they could never have dreamt of before, just as I do. I even teach live classes online now at instructorlive.com and have emails from people all over the globe who are on their way to London and need their Zumba fix.
Zumba may be big business, run by savvy suits but, whether it was their intention or not, they have brought back to life a universal language that crosses divides of culture, sex, politics, age and language.

Ps – my latest Dance Fitness Video on YouTube is Kal Ho Naa Ho from a Bollywood rom-com and I'd love to choreograph some other international songs, if you have a favourite please email them to me at lindsay@lindsayjay.co.uk