Release Me™ – Releeeease my body!
Release Me™, is a new fitness program that we are launching this year that combines the elegance of dance with the power of music and the peaceful, calming qualities of yoga.


I designed this program to stretch and work your muscles and totally release all the tensions and stresses of the day. It's a blissful experience that's good for the mind as well as the body!
Release Me™, is for all ages, body shapes and fitness levels. The benefits are incredible, it is going to wake people up to the power and beauty of their own bodies.
I have been on such a journey making this program its so special and close to my heart and hopefully I can now share that with you. It does what it says on the tin, this class is an experience, every track has a different release, that I will guide you through so all you need to do is let go and enjoy the music.
The link bellow is to a little video taster of one of the tracks in the program called 'The Standing Assisted Stretch'
cc
Thank you to Antonia West and Jo Cooper for filming this video with me.
The music for the video is called 'Beautiful soul' by Jessie Macartney
I really hope you like it!
Breaking down the moves:
This is the main stretch from the video above for you all to try at home……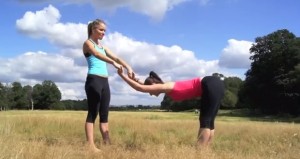 Assisted back stretch (You will need a partner for this exercise)
This exercise targets the whole back of your body
working your Hamstrings
lengthening your Spine
releasing tension in your Shoulders
Hold hands with your partner – one of you is going to work and the other is going to assist and then you can swap over

Working partner

– Feet shoulder distance apart, hinge from the hips – Keeping your knees soft and your back straight
Assisting partner – gently pull on their arms, helping them to lengthen out their spine and release tension in their shoulders

Working partner

– start to breath deeper in the stretch

Assisting partner

– with every exhale help your partner lengthens through their back a little more

Working partner

– wiggle your bottom releasing any tension in your hips

Working partner

– (advanced) if the backs of your legs feel strong and warm begin to lock out the knees keeping your tummy nice and strong

Working partner

– Keep breathing deeply and enjoy, it should feel really nice! 🙂
Swap over
Wanna try a Release Me™ class?
I will be teaching this class at:
Fitness Fiesta Hemsby on Saturday 22nd September at 5.30pm
Vitality Show Boutique, Bluewater on Friday 28th September at 11.45am
Fitness Fiesta Camber Sands on Saturday 13th October at 5.30pm