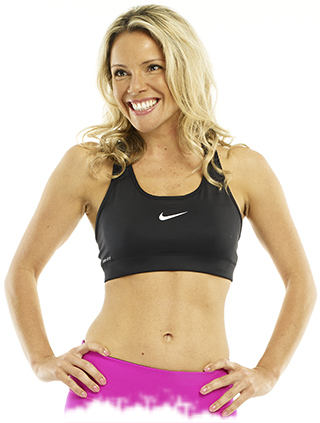 Transmitting positive energy through fitness
Lindsay Jay is an International Fitness Presenter specialising in body conditioning, yoga and Zumba® fitness.
Lindsay has featured on a number of media channels, including BBC One The Apprentice, Fitness TV and ITV's breakfast show This Morning and Vogue. She has featured monthly in Women's Fitness magazine and her YouTube channel has attracted over 100 million views. As a sports model, she has worked with brands such as Reebok, Adidas and Nike. A
s a fitness presenter Lindsay has taught at fitness conventions
across
Europe and the US. She also teaches classes live streamed on the internet for instructorlive.com and gymcube.com
Lindsay has recently moved to Ibiza and runs life changing retreats on the island in addition to weekly classes and personal training.  She feels strongly about her London clientele and her London classes are still running, hosted by her wonderful team of instructors.
Lindsay says:
"
Healthy living is all about stimulating your mind, body and heart. This philosophy drives me and is the source of my passion. My aim is always to ensure that you leave my workouts feeling positive and inspired, whether you're calmly centred after yoga, buzzing with the endorphin rush after a PT session or grinning with exhilaration after a great Zumba® dance class.
I started off working in the performing arts industry and really enjoyed it, but found that I wanted something more mentally and physically stimulating, something worthwhile and with a sense of purpose. I have a strong desire to help and encourage others to realise their full potential, so fitness teaching was the perfect answer."
We are all capable of so much, but at times it can be difficult to achieve on our own. However, with a good helping of positive encouragement and a little perseverance, anything is possible. I love seeing the look of pleasure and excitement on my clients' faces when they realise that reaching their goal is not only achievable but actually enjoyable! That's what Lindsay Jay Fitness is all about.