Preparing for a Home birth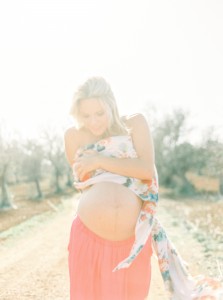 Our little baby boy is finally coming, tomorrow is his due date. As I sit in my birthing pool relaxing and drinking cups of Raspberry leaf tea, I thought I would reflect on the enormous and fabulous journey that I've been on over the last nine months with my wonderful partner Ivor.
It turns out our timing for having this baby fitted in perfectly with our move to Ibiza. I thank my lucky stars that I've been able to take this time out in the gorgeous winter sunshine and that Ivor had given up his job so he could go on this journey with me.
My best friend, Leah, came out last weekend to see me and she couldn't believe the amount that she learnt about pregnancy and the different options you have, when it comes to birthing your baby. I thought it might be useful to share some of my newly found wisdom with you all.
If you're pregnant or thinking of having a baby here are my top tips for your journey ahead….
My first piece of advice is; if you have friends that have had bad birthing experiences PLEASE don't listen to the birthing stories while you're pregnant, it's very unhelpful – I was given a badge that says 'PLEASE, no bad birthing stories, my baby is listening!'
We opted for a home birth for lots of reasons…. Due to my very severe nut allergy, I associate hospitals with emergency situations where my life is at risk. The bright lights of a hospital environment, being surrounded by doctors and nurses that I don't know and not understanding their language made me feel nervous.  Once you start to research home birth or organic birthing, you find that the world really has come full circle.  Birthing can take us back to our roots and science has made it possible to home birth more confidently.  The film "Organic Birth" states that this era will see science and nature coming together for the first time – and I so get that.
I was lucky to find Luci, a midwife on the island that is English, NHS and Hypnobirth trained. She specialises in homebirth here in Ibiza and I clicked with her and trusted her from the first moment we met. She works with a Doula called Cyd, and recommended that I went to meet her in person to make sure I got on with her too – which I did, she is wonderful and the perfect birthing assistant for a yogini like me having just moved to the healing island. I had found my dream team! And over the months that followed, through the Hypnobirthing classes and many lovely lunches together, I grew to trust them more and really feel safe and confident that I had made the right decision for a homebirth.  With the move over here, my first move abroad since I was 18 and taught in a Thai school, I also wanted to make sure I was covered by the Spanish healthcare system – so we spent many hours wading through bureaucracy doing that too!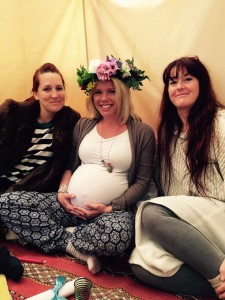 Hypnobirthing – My partner, Ivor, has been on a similarly life changing experience.  Boys don't study birthing like we do, from childhood, so he had limited views on it.  He went from being a 'waiting room Dad' to wanting to be in the birthing pool with me so that he could 'catch' the baby.  He really wants to let other future Dad's know about the journey and has promised to do an interview online.
Waterbirth – From a very early age I have loved being immersed in water.  The first time I asked Ivor if he wanted to watch a film in the bath he thought I was nuts – but now he loves it too.  It was therefore pretty obvious how I was going to want to give birth!  Having watched birthing videos I know I have made the right choice.  Our little Spanish country home has no mains water and only a tiny hot water tank, so rather than the normal birthing pool, we went for an inflatable jacuzzi, which pumps, cleans and heats it's own water – where there's a will there's a way!
I've also learnt about the sexual side of birthing – it seems sex doesn't just start the process, it can help finish it too!  There are countless documented examples of kissing helping to relax the jaw – which has a direct connection to the pelvis.  Playing with nipples can stimulate labour and women have been known to have orgasms whilst giving birth – pretty far away from epidurals huh!?
A Blessing Way is a very special alternative to the traditional 'baby shower' that is held for a woman approaching birth. This Blessing way ritual (also a fun afternoon out with the girls) literally blesses a woman's transition into motherhood. I loved my day in Cyd's tipi and we all left with threads around our wrists that we would cut at the birth so our blessings will be released, and candles, for burning during the labour.
Babybrain – Did you know that Baby Brain is actually a thing!  Our pregnant brains stop producing new brain cells and focus on our babies – or at least, that's the excuse we are all going to use!  Pregnancy also takes us to our reptilian brain, our pre frontal cortex loses it's control and we step back to being animals for a short time – focusing on looking after our young and fighting or flying as the need takes us.  Any yogis out there know about our nervous system.  When we're calm and relaxed we engage our para sympathetic nervous system, releasing endorphins, relaxing further, breathing calmly and nourishing our whole body with oxygen rich blood.  When we are anxious or nervous, our sympathetic nervous system takes over – that's the adrenal fuelled fight or flight response, delivering oxygen and blood to the essential areas only, shutting down other systems and prepping our bodies for action – and that can be what hospitals do to a lot of us.  I love the image of an animal like a cat, seeking out the calmest, darkest, cosiest spot, before giving birth alone, quietly and in peace.
No matter what path my birthing experience takes, I feel well prepared to make sure that I handle it in the best way for my baby and for me.  My home birth partner is fully prepared and the jacuzzi is warm…
Some of the resources for birthing are really old fashioned, so I came up with my own Birthing Affirmations, which you will be able to find on my YouTube channel.  I thought I would end on this one… "I remain relaxed and confident no matter what path my birth takes and I trust my baby to come to me when he is ready……"
Favourite books and videos to read and watch:
The Good Birth Companion – Nicole Croft – The most practical
HypnoBirthing – Marie Mongan – The best techniques for birthing
Ten Moons – Jane Hardwicke Collings – A really beautiful book to own
Please watch this amazing video 
Birth as we know it
 – I got so much from it and so did all of my friends