Our baby is home at last
So….. There's this boy who stole my heart and changed my name to Mummy
We are overjoyed to be able to finally announce that our son is born and here to stay 🙂
Hercules was born on 5th March at 1.15pm weighing  3.5kg.
After a very, very long labour at home we made the decision to give up on the homebirth and go to Can Misses hospital in Ibiza. Complications meant our little man started his jet setter life style early and within a few hours of birth he boarded his first helicopter to Palma to a fantastic hospital with a huge paediatric department. Three weeks later we are now sitting on the ferry home from Palma de Mallorca to Ibiza; it's 7.30am and the sun is rising on a new start for our wonderful little family.
It's been a long journey… When he arrived he only had a 50% chance of living; we were still umming and ahhing over names, but it's really important that new babies in hospital have names and we wanted him to have a name that would give him strength. He has lived up to his name and fought so hard to be here. He is the bravest little boy and I have never ever felt a love like this, it's truly incredible.
I could share my traumatic birth story with you but I really don't want to. It won't help any new mothers with their fears of going into labour. The only thing I will say is that I was in labour for three and a half days straight, the pain of which was really tough but also quite a wonderful, empowering feeling. It's more than manageable… you can do it; there is nothing to be scared of and the reward is the most magical thing ever.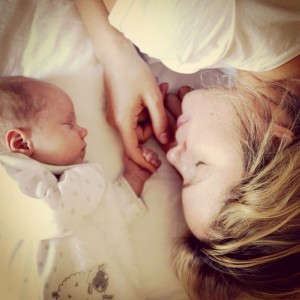 Now we are through this and on our way home I wanted to share some of the positives from this first adventure as a family….
We were lucky enough to conceive straight away, without any 'trying' or any plans and our recent trials have really taught us how special and precious a newborn baby is. Many people struggle to conceive, taking a long time, feeling stressed and sometimes needing IVF. A little struggle whether before or after really makes you appreciate the miracle of new life.
We have also been sent such wonderful messages, full of love and tenderness.  Prayer groups have prayed and we have been touched by so many people's thoughts and energy.  Our families have been fantastic; with brand new uncles and grandparents flying over to help and friends lending cars and houses whilst we were on another island, far from home.
Things I have learnt:
I love and trust modern medicine more than ever, it is amazing and the doctors and nurses have taught us so much.  Paediatrics is a really vocational profession and together they saved the life of both me and my son.
If you're planning a homebirth make sure you have a backup plan with a hospital – we are so thankful we did and if your waters have broken for more than 24 hours then you really must go to the hospital, no matter what your 'plans' might have been.
Whatever your plans be aware that things might change. I used a birthing affirmation (see previous blog) to keep this in mind.
Ultimately, the most important thing is your child and you will automatically do what is the very best for them.