International Women's Day – Spoil the Woman in Your Life

We are giving away 3 sets of couple's tickets, worth 300 pounds, helping promote 
Tell us why the woman in your life deserves a day of yoga and pampering and you could both come for FREE this Saturday!
Simply send us a message on facebook or twitter and the tickets could be yours 
.
If you or someone you know hasn't tried a Yoga class with me yet, this event in London might be the perfect introduction.  And if you are new to yoga here are some of the reasons why you should give it a try…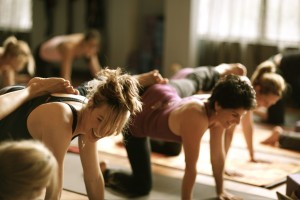 It lowers your stress levels and improves your mood
It boost your confidence
It lowers your risk of injuries
It helps you lose weight
It improves your muscle tone and strength
It benefits your breathing capacity and lowers your blood pressure
It improves your posture
Here are a few words from one of the girls who came to our last event:
.
"WOW!! I feel amazing, I didn't realise how much I needed this day, I feel ready to take on the world again." Georgia, Clapham
.
There are a real mixture of classes and workshops for you to try on Saturday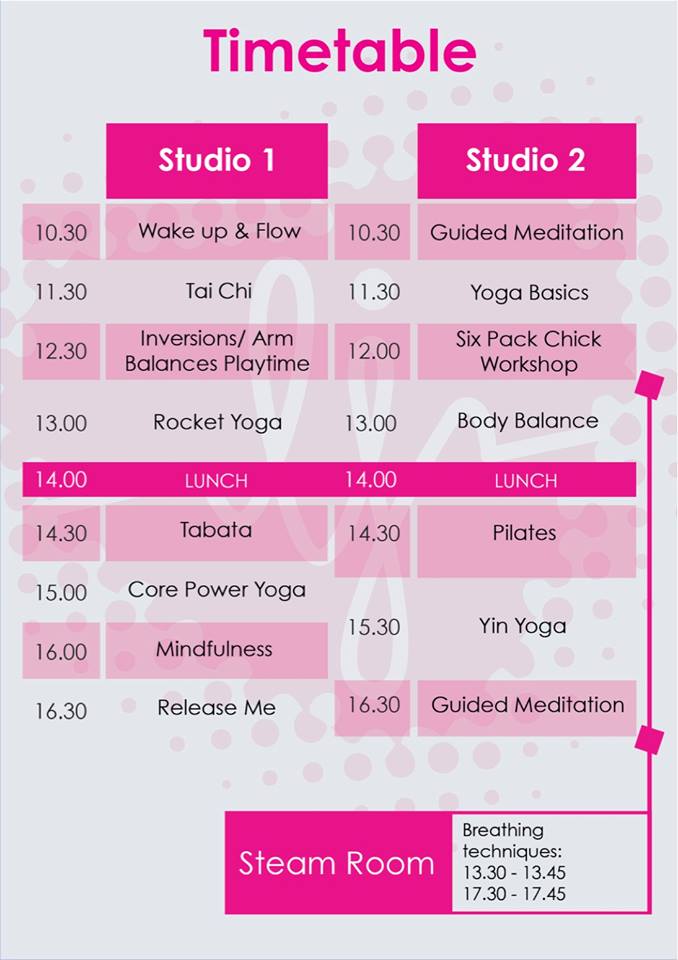 .
Bridget is coming along again to run a Six Pack Chick nutrition workshop
.
We feel so privileged to have Marcus our Rocket man teaching one of his awesome classes – here is a little interview with this very cool DJ, yoga teacher so you can check out what he is all about – click here
.
Ivor is storming it with Tabata Official now we are loving working with Universal Pictures and so excited to be giving you a taster here of this incredible 4 minute fitness workout. –  If you are out of the loop on this please click here
.
Amanda, an incredibly experienced and exacting teacher, is joining us for Pilates and Body Balance
.
Damian is sharing his wisdom with us on Tai Chi, Mindfulness and Meditation
.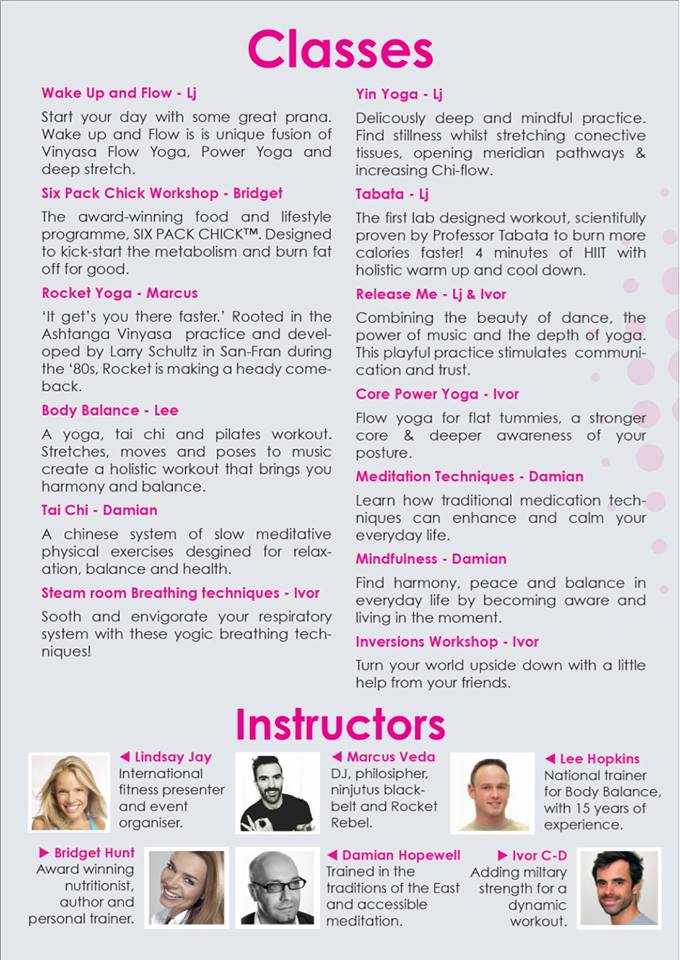 Finally here is a little taster class from instructorlive.com so you can get an idea of the type of yoga I teach too, this class is perfect for beginners – so go on give it a try 🙂
.
Tickets start from £15 and the day is taking place in one of the coolest luxury health clubs in London, thirtysevendegrees which is on London's south-bank, just by Tower Bridge
.
This is our second event we have run at this venue and here are some testimonials from some of the people that joined us on our first:
.
"This was the perfect day with my best friend, we have had so much fun and feel seriously chilled out now"
Imogen, London
.
"I have just gone through a break up and was feeling so low – but not anymore!"
Sam, London Bridge
"I would of paid £50 just to do Lindsay's Release me class, such good value for money"
Roni, Bristol
.
So, if you're free on Saturday 8th come and join us and let us show you how good your body is designed to feel!
You can pick up tickets here at: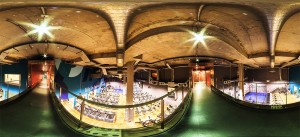 .
Full day pass – £50
Half day pass (3 classes) – £30
Class Pass (1 class only) – £15
Couples Pass (limited offer) – £70
.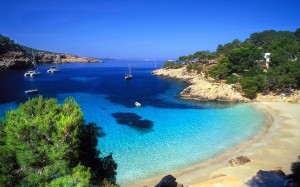 . . 
The classes at this event are a little taster of what you can expect  from our Ibiza retreats this summer and if your ears pricked up at the thought of a retreat in the sun this year  we will be running two different types for you to choose from. Depending on your budget we have; a bespoke one, where you can design your own timetable and your home will be a swanky Spanish pad and a larger hotel based one  with awesome facilities and a large variety of holistic and fitness classes.
If you would like more info on these please email me – lindsay@lindsayjay.co.uk
.
.
Whatever you're doing this Saturday – make sure you have a fab Womens Day and don't forget to send us those messages about your wonderful female friends and family 🙂
Best wishes,
Lindsay Jay